Wednesday, April 27, 2022 / by Cindy Bunch
This week, the Bunch Team is happy to host guest blogger, Candace Sigmon! You could say Candace Sigmon was born to DIY. She has always loved to tinker, fix, and build, and she has been working on home projects with her dad pretty much ever since she could hold a hammer. She created AtHomeHelper.com because she thought it might be fun to share some of what she has learned along the way as well as resources that she finds especially useful.

---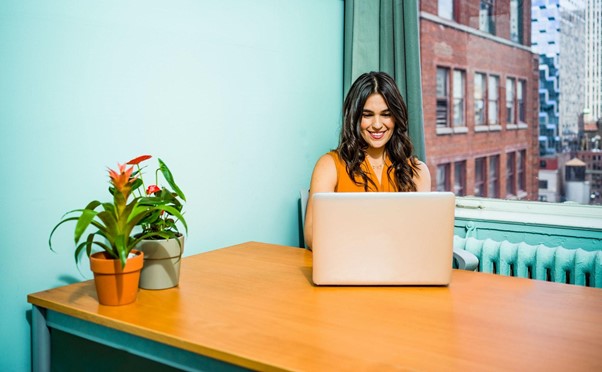 Photo via Pexels
Working from home offers many benefits. For one thing, you can eliminate a lengthy commute from your life. You may also find that you're more productive. In fact, the top advantage people cite about home office life is the ability to better balance personal and work life. That said, if you want to stay focused when working from home, it's important to clearly delineate your professional and private spheres.
The best way to do that is to create a dedicated office space, free from the distractions of kids, pets, and spouses. If your current house doesn't have room for an office, it may be time to upgrade. In the long-term, the added comfort will be well worth the investment. Bunch Team Realty Group explains how to buy the perfect property, and then equip and design your perfect office.
Find a property that can accommodate your dream office
Before you start scouring the housing market, set a budget. This ensures that you don't spend more than you reasonably should. Keep in mind that you'll likely have to make a down payment of at least 20% if you want to get a good interest rate on a mortgage, so tailor your budget accordingly.
You can then start researching home prices online to see what your budget will get you. An online search will give you a good overview of property prices—you can compare costs in different cities and neighborhoods.
When it comes to actually searching for an affordable property, it's best to consult an experienced realtor group like the Bunch Team. They have a network of contacts they can tap into to find you the best deals on the market and may even be able to show you properties that aren't yet publicly listed, giving you a competitive edge on affordable real estate.
Start planning your move well ahead of time. Go online to find local movers and research which companies have the best reviews and ratings from past customers. Only hire licensed and insured professionals and walk away if they give you an over-the-phone estimate.
Invest in top-quality office furniture and supplies
Once you have the perfect property and a room set aside for your home office, you can start designing it. Don't skimp on equipping your home office. Get high-quality furniture and equipment that will last. After all, you'll be using your office for years to come. It's also important to create an organizational system that fits your workflow and professional needs.
When it comes to maintaining comfort, there are some basic ergonomic dos and don'ts for working from home. For example, you shouldn't hunch over your laptop. Get yourself a laptop stand, or invest in a separate monitor so you don't have to look down at a small screen. Even better, consider investing in an adjustable height desk. Prevention notes that you can stand at your desk intermittently throughout the day to combat a sedentary lifestyle.
If you're worried about the expense, see if you can write it off. The Internal Revenue Service provides guidance on what self-employed and small business owners are allowed to write off. You may want to consider formally establishing your business as a limited liability company to take advantage of such tax perks. A business formation service can help register your LLC, sparing you the cost of attorney's fees.
Add aesthetic touches to promote productivity and comfort.
Once you have the basics of your home office and your business entity in place, you can add the finishing touches. Make sure your home office has plenty of light, which will help you remain alert and focused. Investing in productivity tracking tools, like Trello or Evernote, will help you stay on track. Finally, consider adding some greenery to your office. Research cisted in American Society for Horticultural Science suggests that having plants in the workplace alleviates stress and can improve focus.
Creating the perfect home office will take some time. Don't expect to find your perfect property and equip your new office overnight. With a bit of patience and home-buying guidance, you will be able to create an office that fits your style and needs perfectly.
This article is brought to you by Cindy Bunch, Realtor with the Bunch Team Realty Group at Keller Williams Atlanta Partners. Learn more about our team and reach out to us anytime to help with your real estate goals.