Wednesday, April 6, 2022 / by Cindy Bunch
Are you thinking about buying a house in the near future? If you've been looking into where to get started, you may have seen the phrase debt to income ratio or DTI.



Why DTI is Important

When you go to get pre-approved for a loan to buy a house, one of the main factors your lender is going to look at is your debt to income ratio, so I'm going to tell you more about it today and show you how you can calculate it yourself! Knowing your debt to income ratio will help you understand how much house you can actually afford.
Your debt to income ratio is an equation: your monthly debt payments divided by your monthly gross income. Keep in mind that these totals are pulled for each person applying for the loan. So if you and your spouse will both have your name on the loan, your debts and incomes will be totaled together.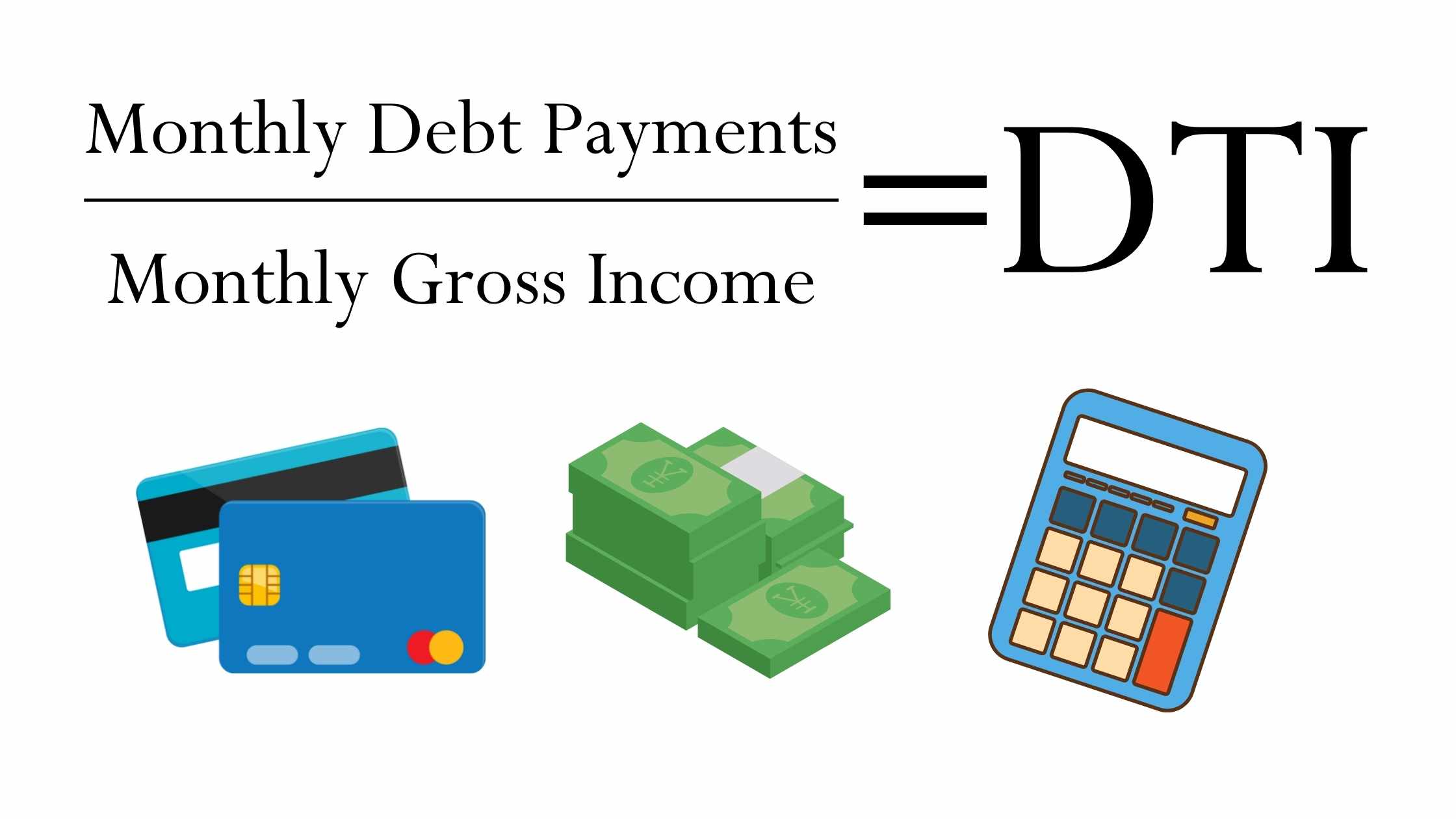 When getting pre-approved for a home loan, different lenders may have varying preferences of what they are looking for when analyzing your debt to income ratio. Different loan types, such as FHA, Conventional, or USDA, will have varying maximums of DTI in order to qualify for that loan type. Because lenders use your debt to income ratio as a way to measure your ability to manage the payments you make each month and repay the money you have borrowed, a DTI under 40% is the best case to get approved for a mortgage and therefore a good goal when you want to buy a home.

How is DTI Calculated?


Let me show you how easy this is to calculate. We'll start by finding your monthly gross income. First, find your pre-tax income for the year. For our example, we'll use $78,000. Now, divide that by 12 and that gives us $6,500 as the monthly gross income.
Next, tally up your monthly debt payments and by monthly debt payments. I'm not referring to your utility bills or how much you budget for groceries. Your monthly debt payments are items that hit your credit like student loans, car payments, credit card debt, or if you have an existing mortgage now. So anything that is reported to your credit.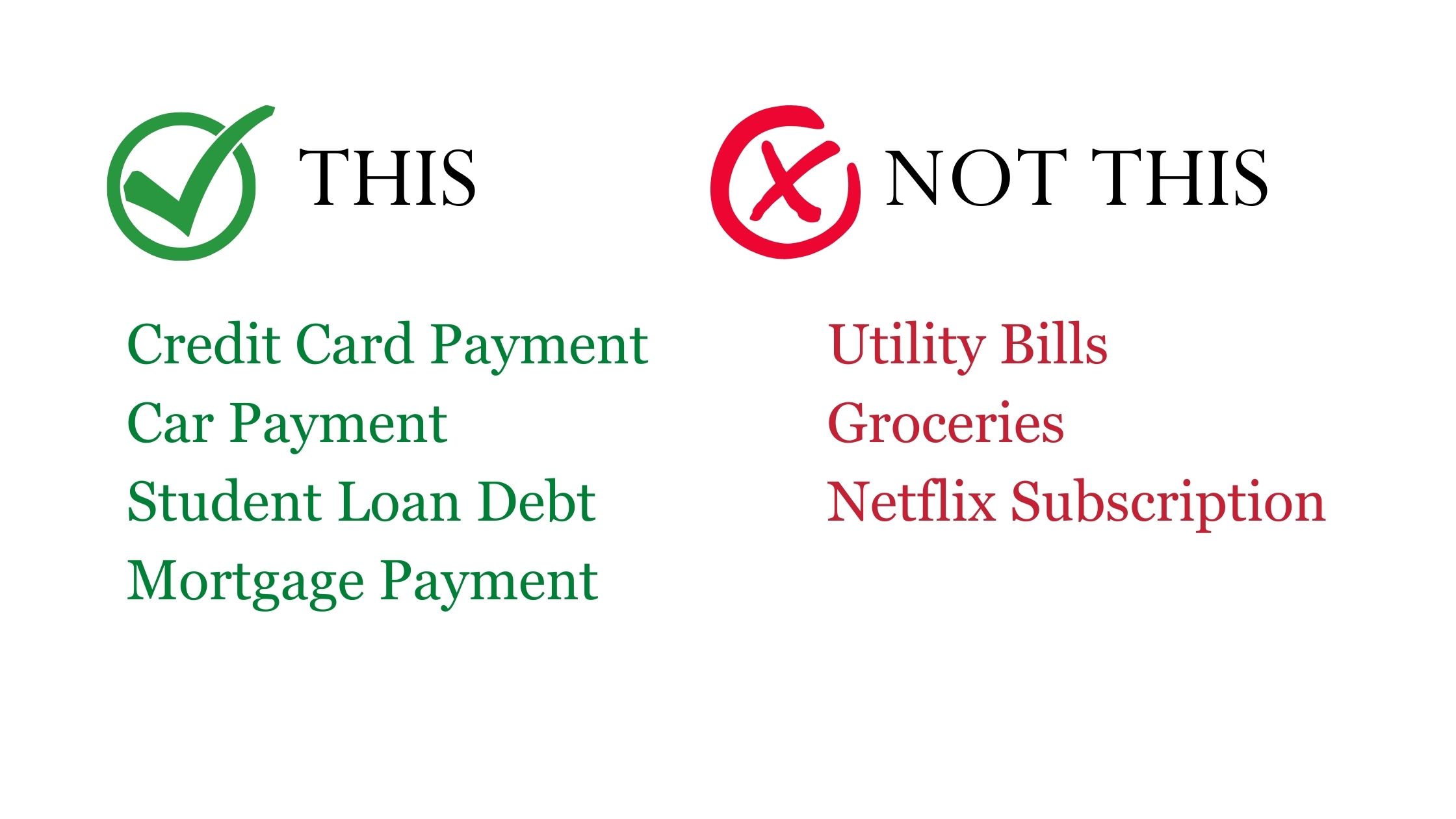 We're not going to take the total balance of each debt, but instead what is the minimum monthly payment for each debt?
For our example, let's say we have a $150 minimum payment to our credit card. Even if you usually pay more per month to pay it down faster, we still want to use that minimum payment amount for this calculation.
Then let's add $400 for a car loan and $450 for student loan debt per month. Let's say I'm currently renting and looking to buy my first house, so I don't have a house payment to add in there. Okay, add all those up, and the monthly debt payments total to $1,000.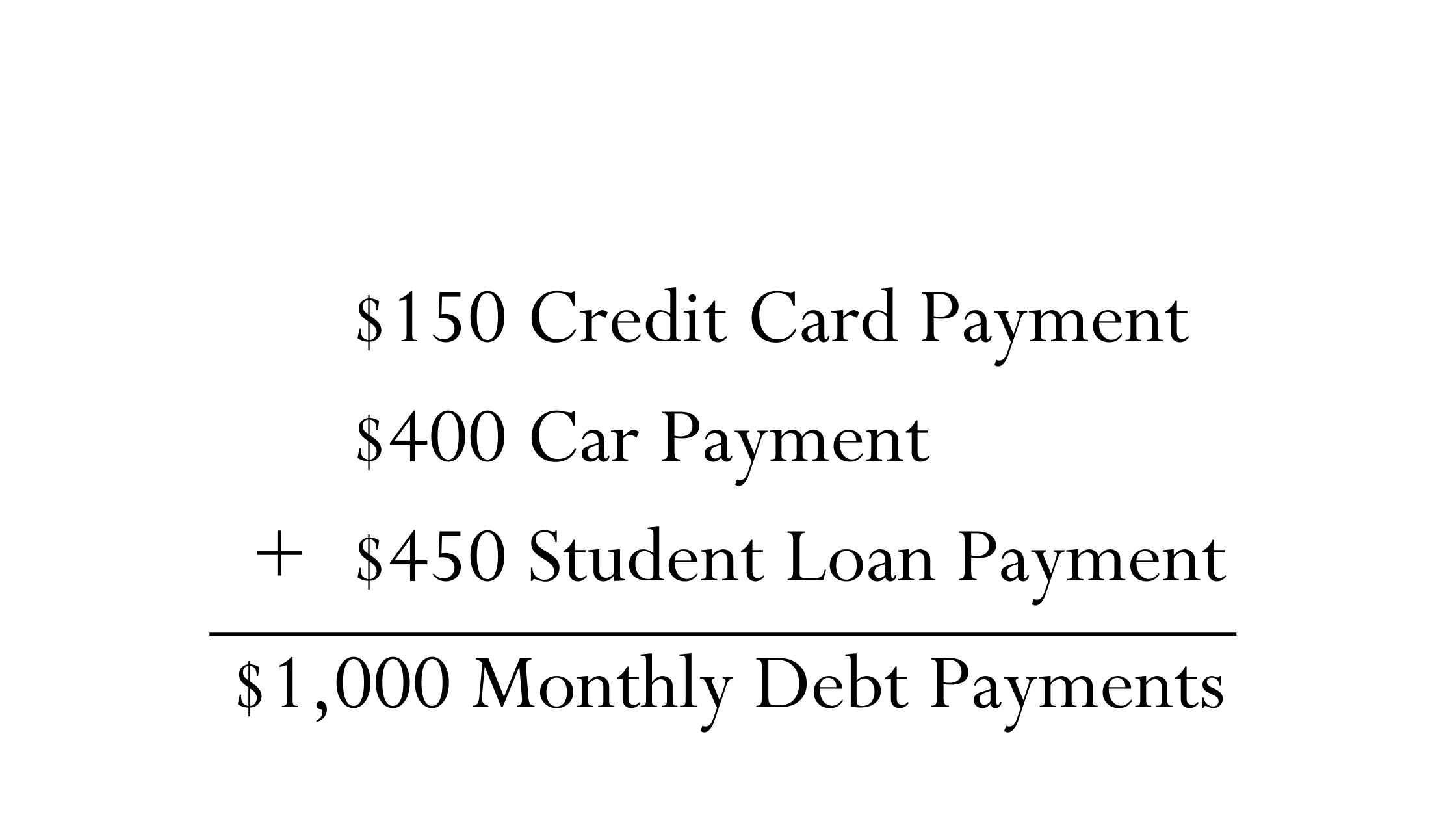 Finally, we take our $1,000 of monthly debt payments and divide that by our $6,500 monthly gross income. That gives us 0.15 and to turn that into a percentage multiply 0.15 by 100 to get 15%. So in our example, we have a debt to income ratio of 15%.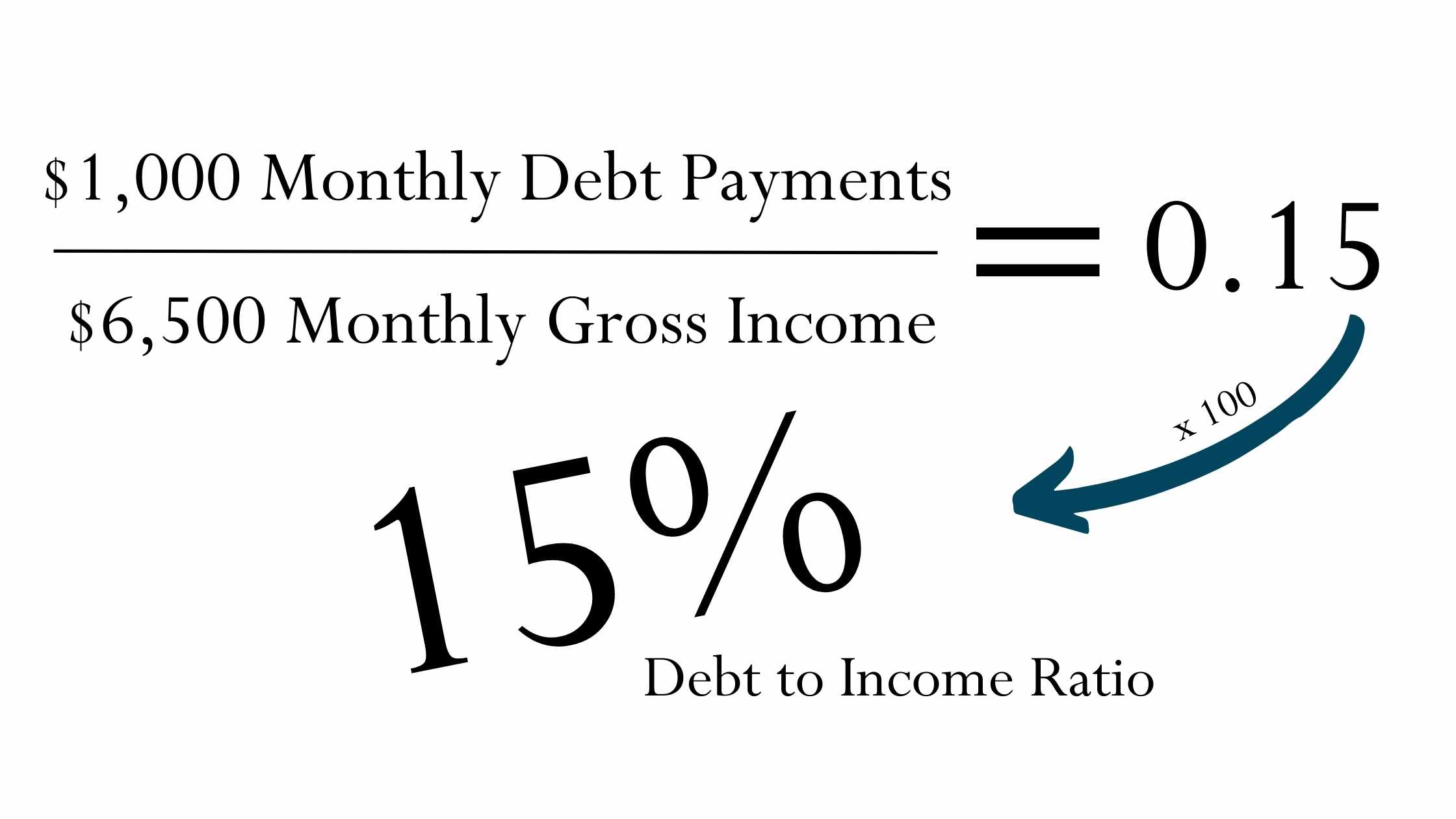 So, How Much House Can You Afford?
Let's take it a step further to see how much of a house payment we can fit into our example and still stay under that 40% goal.
If our current DTI is 15%, that gives us 25% to play with as a potential house payment. So I am going to take my gross monthly income, $6,500 in our example, and multiply it by 0.25, to get $1,625. This would be a good target for a monthly mortgage payment to also maintain a DTI at or under 40%.
That said, only you know what your monthly budget is, not your lender, not your realtor. This number makes sense to meet that under 40% debt to income ratio guideline, but you also have to make sure that this number works with your other monthly budgeted expenses and avoid overextending yourself.


How Can You Change Your Debt to Income Ratio?
Looking at the debt to income ratio equation again, there are two ways you can change your ratio: reduce debt or increase gross income.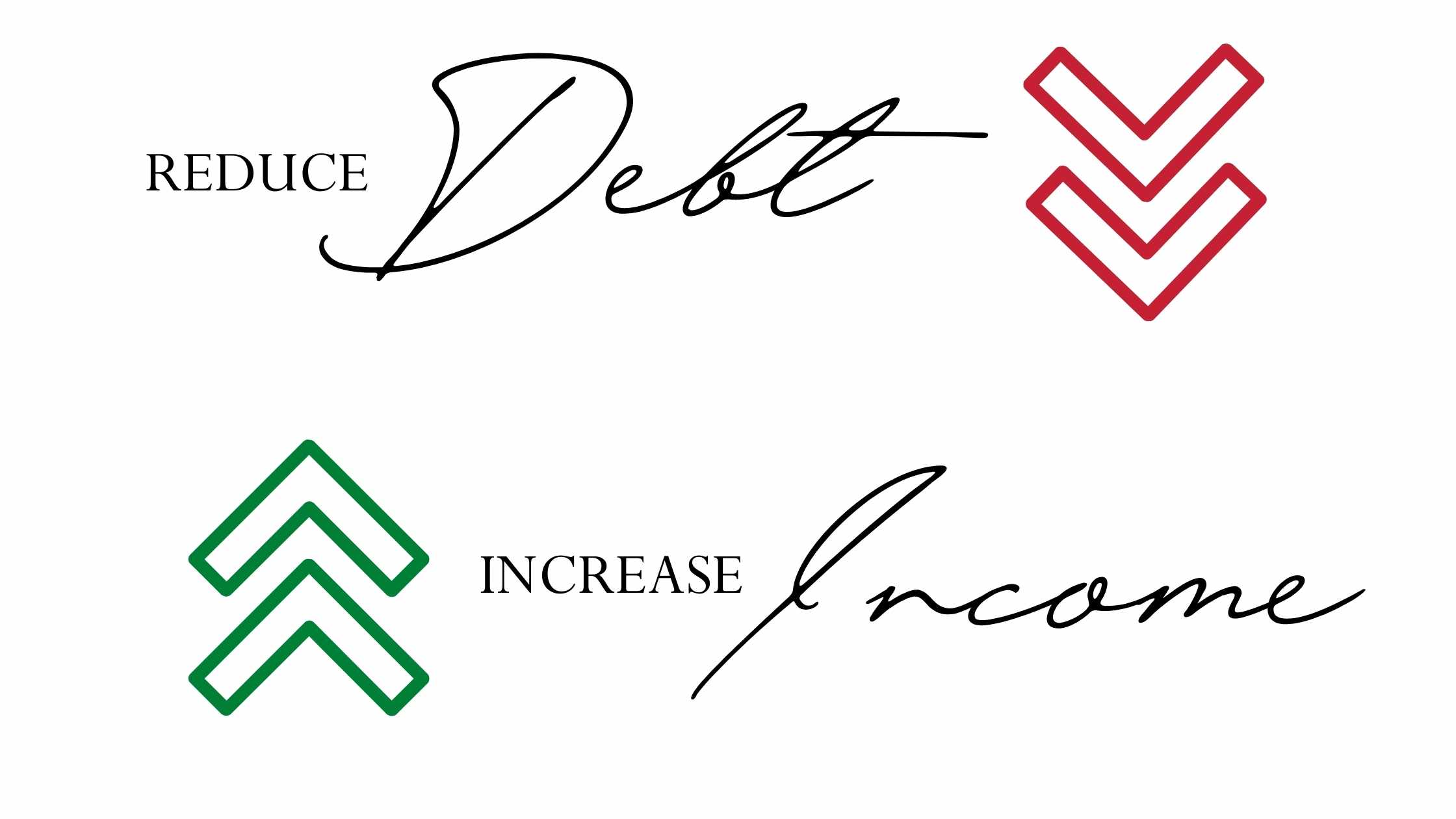 I know, easier said than done on both accounts.
To reduce debt, first, avoid taking on any unnecessary new debt by considering needs versus wants when spending. Next, take a look at your monthly budget (or make one if you haven't already) and see what you can change to work towards paying off one of your smaller debts to remove it from your credit report.
To increase income, you could try any of the following:
Ask for a pay increase or more hours at your primary job

Find a second job or side hustle where you can freelance

Complete training or course work to improve your skillset that could earn a higher salary in a new job
I hope this gives you a new perspective on your finances and a better understanding of what it takes to get preapproved for a loan. In our current market, the #1 thing you can do to put yourself in the best position to win is to give yourself financial flexibility to submit the best offer possible. Understanding your debt to income ratio is the first step to that!





This article is brought to you by Cindy Bunch, Realtor with the Bunch Team Realty Group at Keller Williams Atlanta Partners.

Learn more about our team

and reach out to us anytime to help with your real estate goals.