Wednesday, September 13, 2023 / by Bunch Team Realty Group
You're standing on the precipice of a new chapter. The golden years of retirement beckon, and you've decided to sell your home. However, one pivotal decision could make or break your journey: selecting the ideal real estate agent. But how do you sift through the myriad of agents out there and pinpoint the perfect one for you?


Why is it so Important?
This isn't just about trading bricks and mortar; it's about transitioning into a new, exciting phase of life. The aim is to make this shift as seamless, lucrative, and stress-free as possible.
The Role of a Real Estate Agent
A competent real estate agent isn't just a business representative but wears several hats:

Advisor: They help you understand the ebbs and flows of real estate trends and market dynamics.
Advocate: Standing up for your best interests, especially during negotiations.
Project Manager: Coordinating various aspects of the sales process, such as home staging, photography, inspections, and more.
At their core, they're your trusted partner, assisting you in making a significant financial and emotional decision.

Spotting the Perfect Agent
Identifying the perfect agent can tremendously enhance the home-selling experience. They should:
- Understand local market trends, neighborhood specifics, and pricing dynamics.
- Communicate effectively, ensuring you're always in the loop.
- Have a vast network of professionals – from mortgage advisors to legal experts.
- Be dedicated to catering to your unique requirements, guaranteeing a less stressful, more successful transaction.
For retirees, some agent qualities are invaluable:
Patience and Understanding: The agent should be respectful of your pace and decisions.
Experience with Retirees: An agent familiar with retiree needs will be better equipped to serve you.
Certified Senior Real Estate Specialist:
These agents, certified by the National Association of Realtors, are trained to serve clients aged 55+. They're adept at understanding senior-specific requirements in the real estate realm.
Essential Questions to Ask
When narrowing down your options, ask potential agents:
- How many homes have you sold in my area?
- How will you market my property?
- What's your experience with retirees?
This will ensure you get an agent who's competent and aligns with your expectations.
A Real-Life Illustration
To better illustrate, let's consider the story of a couple I recently worked with, Jim & Gerry. Already well into retirement, they wanted to sell their long-time family home and move into a retirement community closer to their daughter. They also had the added challenge of some health problems. They were understandably anxious, as this was a significant emotional decision and a big move to take on.

We worked together closely, setting a pace that respected Jim & Gerry's comfort level and emotional readiness. They already kept a very clean and decluttered home which made preparing the home for sale easier but we also leveraged my network of estate sale professionals and movers to consider all their options for their move. Through careful market analysis, we set a competitive price, and with strategic marketing, the home received a lot of attention on the market. In the end, we sold their home for a price that made their transition to the new community smoother and more rewarding. This story underscores the pivotal role a good real estate agent plays, particularly during a life-changing transition like retirement and down-sizing.
In Conclusion
Choosing a skilled real estate agent is paramount, especially during retirement. They should be a well-informed partner, a patient guide, and a steadfast advocate. If you're thinking about selling your home or seeking advice,
don't hesitate to reach out
.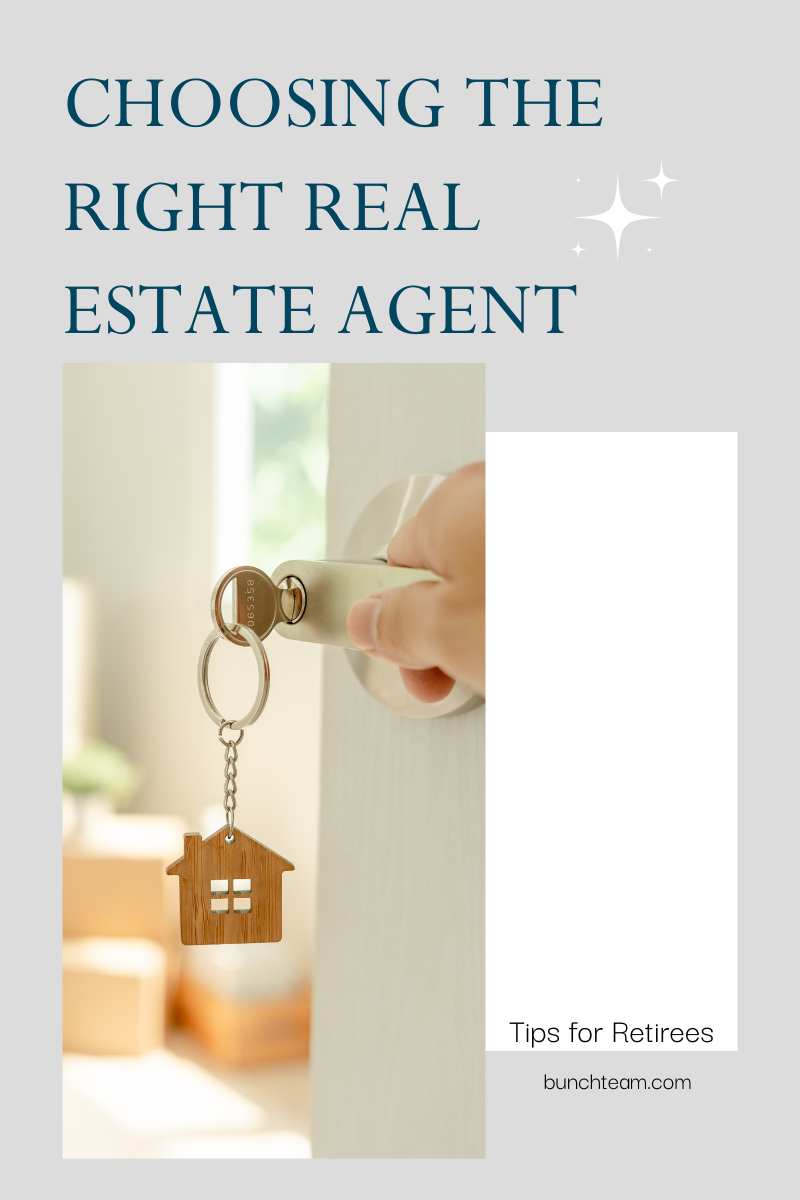 This article is brought to you by Cindy Bunch, Realtor with the
Bunch Team Realty Group
at Keller Williams Atlanta Partners.
Learn more about our team
and reach out to us anytime to help with your real estate goals.