Monday, November 7, 2022 / by Cindy Bunch
Have you browsed every page of Realtor.com and you're ready to jump in on your house hunt? No matter your reason for moving, if it's your first time or your third, the very first thing you're going to want to do is get a pre-approval and I've got a couple of reasons why.



Having been in the real estate industry for over 20 years, our team has seen all market types and helped hundreds of families buy real estate, so we are VERY confident in telling you that your number one step when it comes to buying a home is to get pre-approved.

First, what is Pre-Approval?
The pre-approval process is when a lender tentatively agrees to loan you an amount of money. Similar to when you officially apply for a mortgage loan, your lender completes a detailed review of your finances including your income, assets, and debts. You'll have to submit financial documentation and there will be a hard inquiry on your credit, which does impact your credit score, but not much of a dent.

Then the lender will provide you with a pre-approval letter. Here's what a pre-approval letter may look like: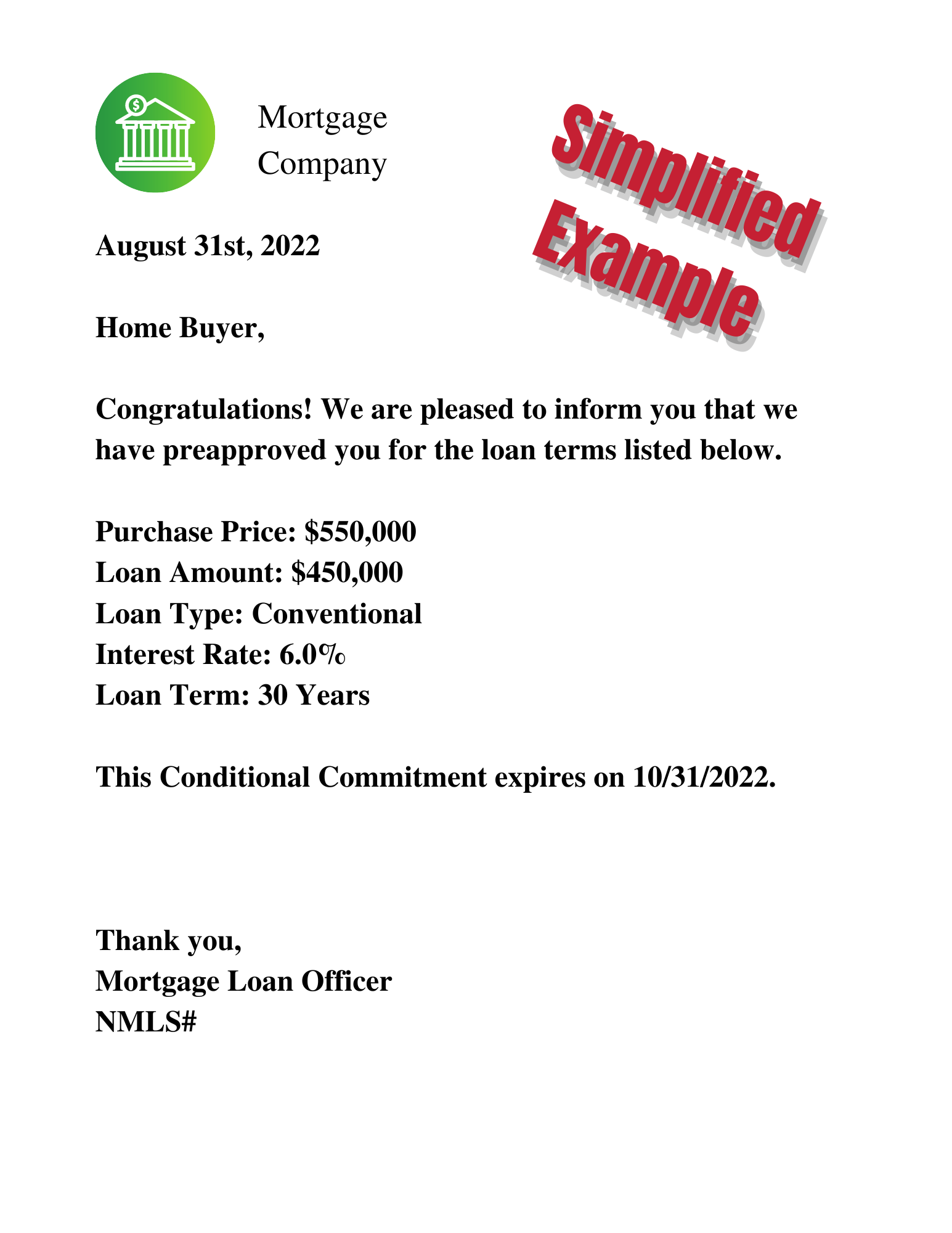 It will be on company letterhead and i
t shows the max sales price you're pre-approved for or the max sales price you've asked for. It'll show t
he loan amount, which factors in how much you said you'd provide as a down payment, y
our interest rate, and the loan type.
It also includes an expiration date. This is your date to not only find a house but to close on the purchase of that house by that date for the loan terms they have tentatively agreed to give you.

Once you have an accepted offer on a home, you'll move forward with the mortgage application. Your lender might ask you for updated financial documents or pull your credit again to check for any changes that would impact the loan offer. If market conditions have changed, the lender may offer a new interest rate. This is because you can't lock your rate until you have a binding agreement on a property.

What about a Pre-Qualification?
You may have also seen the term pre-qualification. This is actually quite different from a pre-approval. A pre-qualification reviews the financial information you provide, like income, your current housing payment, monthly debt obligations, savings, and it includes a soft inquiry on your credit. With a pre-qualification, you're not yet providing financial documents for the lender to verify.
One way to think of a pre-qualification is that it's a Pre-pre-approval. The lender is saying, "Based on what you told us, we are likely to pre-approve you for a loan at this amount." Doesn't sound as strong as a pre-approval, right?
That's why your first step to buying a home is getting a pre-approval not a pre-qualification.


Next, what are the benefits of getting preapproved?
First, is clarity on your budget.
You now have a number to work with! Your lender probably also spoke to you about what your monthly payment might end up being with those loan terms at that sales price. Now you can start your search knowing what you can afford. You can see what's real and attainable for your next home. Next,
you, or your agent, can set up a home search with a price range based on your pre-approval amount and have the confidence to submit an offer when you find THE ONE.

Once you do find the one, the dream house, the first home, the forever home, whatever it is to you, a pre-approval letter is the signal of a serious buyer. It tells the seller that you have already started your loan application and you're more likely to make it to closing.
No matter what the market is, a pre-approval letter is an essential part of a strong offer. I've been on the listing side of hundreds of transactions and can confirm that sellers take offers with a pre-approval attached more seriously.

If you're ready, or even the least bit curious about what your loan options may be, contact our team and we will
connect you with our team's preferred lender!





This article is brought to you by Cindy Bunch, Realtor with the Bunch Team Realty Group at Keller Williams Atlanta Partners.
Learn more about our team
and reach out to us anytime to help with your real estate goals.