Wednesday, September 6, 2023 / by Bunch Team Realty Group
Selling your home post-retirement is a significant choice and can greatly influence the quality and nature of your retirement.


Unlock Equity
Most of us view our homes not just as structures, but as the backdrop for countless memories, experiences, and significant life events. However, on the financial front, your home might just be the most considerable tax-free asset you possess. Homes, especially those held over long durations, often appreciate considerably. Selling can unlock a sizeable amount of money.
Here's a crucial financial tip: if you've owned and occupied your home for at least 2 of the last 5 years, you are exempt from capital gains taxes on the initial $250,000 for singles and a whopping $500,000 for married couples filing jointly. This equity can be a financial cushion during retirement, assisting in supplementing income, clearing outstanding debts, or investing in a more retirement-suited property.


Embracing a New Lifestyle
Embracing retirement is like turning a new page. It's a period of newfound freedom and endless possibilities. Selling your home could very well be the catalyst for change, ushering in a lifestyle more in tune with your retirement aspirations.
Consider the allure of downsizing – a smaller home or a condo perhaps? Reduced chores and maintenance can free up precious time for hobbies and experiences you've previously sidelined. Maybe you've dreamt of traveling, immersing yourself in nature, or picking up a new hobby.


Additionally, the decision to sell could facilitate
a move closer to loved ones
or into communities that resonate with your interests. Whether it's a community revolving around golf, arts, or perhaps a sunnier locale, selling can be the ticket to a retirement tailor-made for you.
The decision to sell a home where you've lived for years undoubtedly comes with emotional weight. But it's vital to see the broader picture – it signifies the beginning of a thrilling new chapter. It's not about discarding memories but about paving the way to create fresh ones in an environment that's more in sync with your current life phase.
Real-World Example
Linda, a client of the
Bunch Team
, found herself in a large four-bedroom house after her children moved out and she retired. By selling her longtime home, she not only realized a substantial profit but also reinvented her lifestyle. With her earnings, she purchased a stunning two-bedroom condo in a retiree-friendly community and set aside funds for travel. Linda's life today is a blend of comfort and exciting new adventures, demonstrating the potentially transformative power of selling your home post-retirement.
For those keen on the nitty-gritty of downsizing, you might be interested in more tips and strategies that helped Linda transition so smoothly.

Once you have the Why, what about the How?


Choosing to sell your home after retirement is an impactful decision. It demands a balance of financial, lifestyle, and
emotional considerations
. And while Linda's journey paints an optimistic picture, it's essential to realize that each person's path is distinct.
As your dependable real estate consultants, the
Bunch Team Realty Group
is here to guide you through this. If you're contemplating selling or need advice, we're just a call or message away. Our ultimate goal? To empower you to make the best decisions.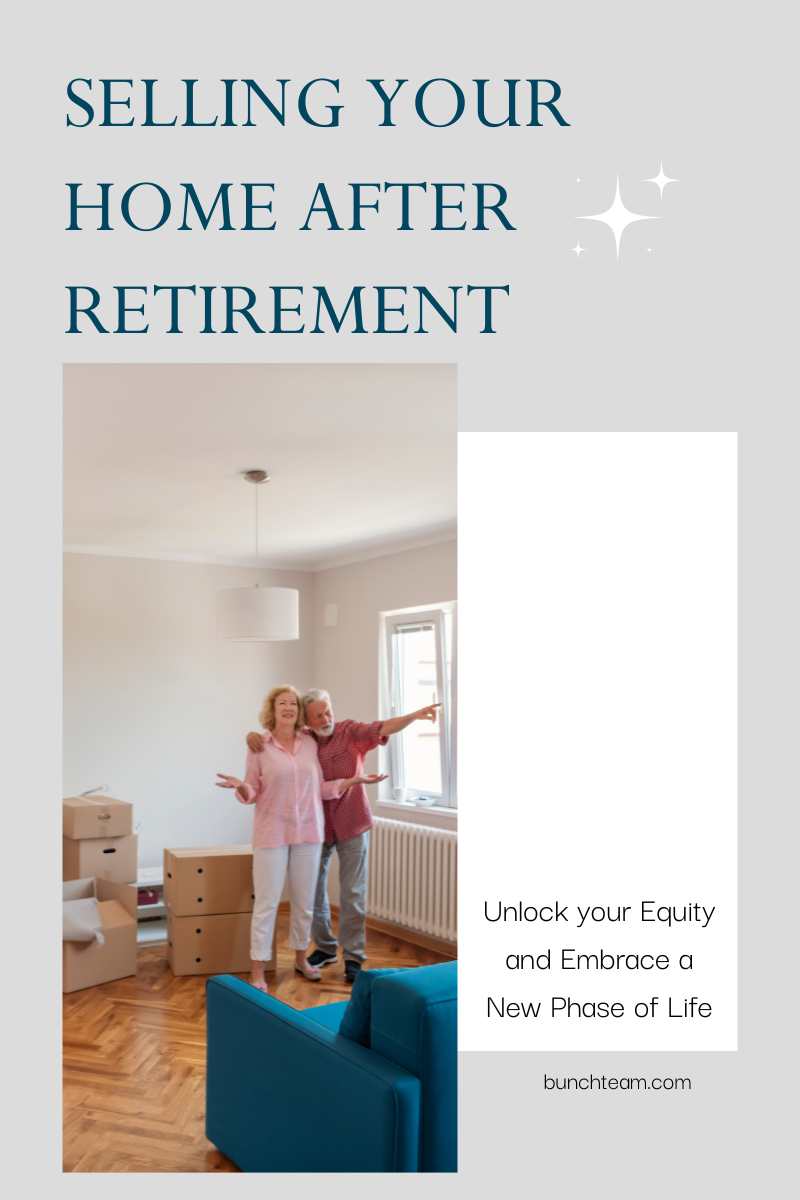 This article is brought to you by Cindy Bunch, Realtor with the
Bunch Team Realty Group
at Keller Williams Atlanta Partners.
Learn more about our team
and reach out to us anytime to help with your real estate goals.